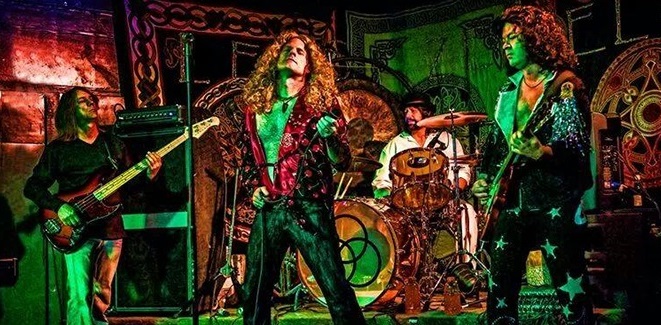 FRIDAY, MARCH 20th and
SATURDAY, MARCH 21st, 2015, 9:30pm
THE TRAILER PARK BAR & GRILL at BUFFALO RUN CASINO & RESORT
1000 Buffalo Run Blvd
Miami, Oklahoma 74354
918-542-7140
*21 and over*
LET'S ZEPPELIN: A TRIBUTE CELEBRATES THEIR
11th ANNIVERSARY IN 2015!

This concert will feature:
LET'S ZEPPELIN: A TRIBUTE
performing a special show with emphasis on the PHYSICAL GRAFFITI album.


Special guest performer to be announced.
You do NOT want to miss this show!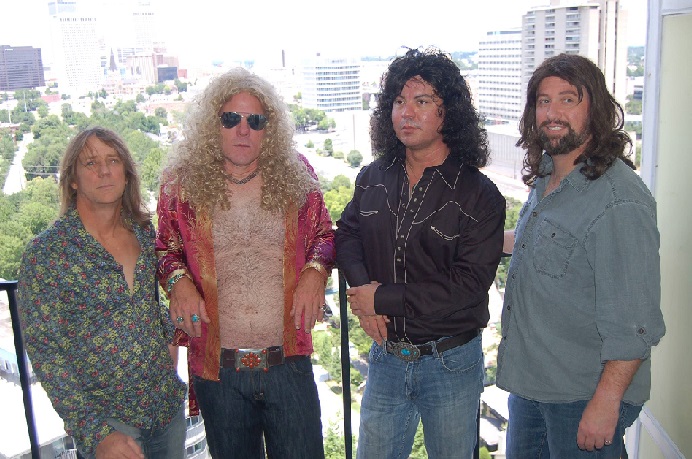 LET'S ZEPPELIN: A TRIBUTE consists of the following performers (in alphabetical order by last name):
Brian Henderson (as "John Paul Jones", far left): Bass Guitar
Jeff Johnson (as "John Paul Jones". not pictured): Synthesizer, Piano
Jim Long (Auxiliary Performer, not pictured): Guitar, Vocals
Tim Moore (as "Robert Plant", second from left): Lead Vocals
Marc Nelson (as "John Bonham", far right): Drums, Vocals
Scott Wright (as "Jimmy Page", second from right): Lead Guitar, Theremin


LET'S ZEPPELIN: A TRIBUTE was founded in 2004 by Brian Henderson, Tim Moore, Marc Nelson, and Scott Wright as a reverent look-alike, sound-alike tribute to Led Zeppelin. Since then, has group has performed for audiences of thousands throughout the central states region of the US. The group would like to thank the following individuals for their continued support:
Mason "MaMo" Moore (Video Production), Alan Mathis (Photographer/Videographer, Graphic Designer), Taron McLean (Guitar Tech / Graphic Designer), Eddie Bishop (Acoustic Guitar), Justin "J." Brown (Drum tech), Joshua Shanks (Drum Tech), Deborah Jensen (Drum Tech), Tracie Wright (Guitar Tech), Benjamin Berger (Guitar Tech), Charity Stout (Wardrobe Designer/Coordinator), "Video" Mike Peyton (Videographer), Gregg Shipman (Photographer), Paul Roper (interim guitarist), Cyndi Henderson (for years of hospitality) and seemingly countless others for their love, hard work and other contributions to the group's continual efforts - and the wonderful members of the Australian Pink Floyd Show, for inspiring us towards excellence! If we're forgetting anyone, we apologize.